RWPA's year end is August 31. As in previous years, RWPA has retained the services of Dudley & Company LLP to prepare our annual financial statements. Below is a summary of their report and a comparison to previous years. Their report is available to download.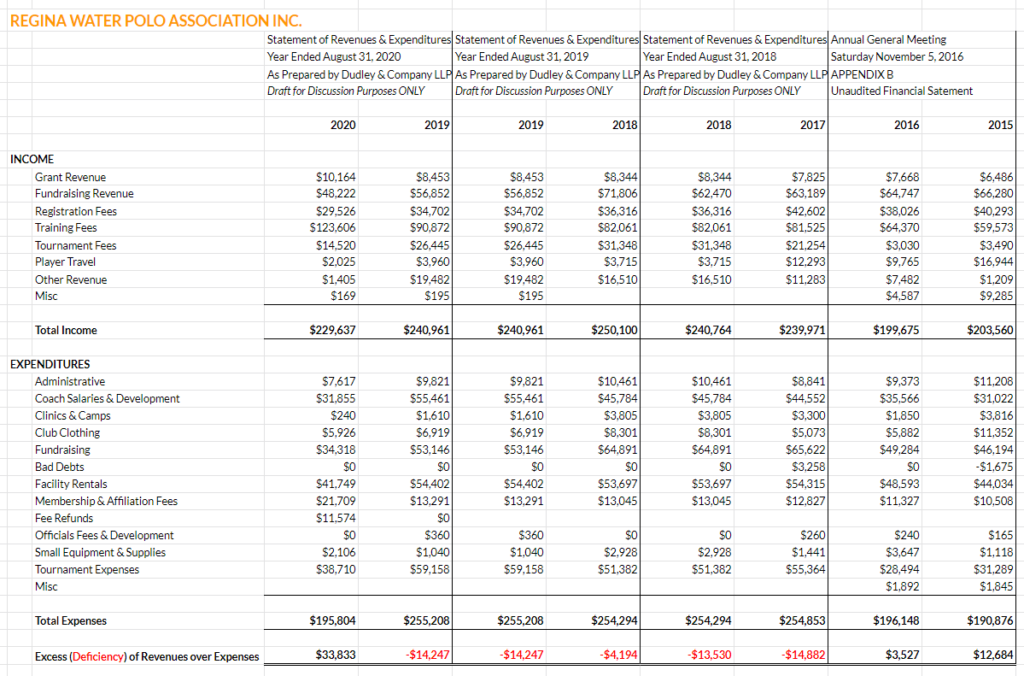 The difference for 2018 between the 2018 and 2019 statements is fundraising revenue. The difference in the INCOME Fundraising Revenue row is the same as the difference in the EXCESS (DEFICIENCY) row at the bottom of the statement. Not all fundraising credits for the season were entered when the financial statement was completed.
Membership & Affiliation fees, what RWPA pays to Water Polo Canada & Water Polo Sask, increased substantially for the 2019/20 season. Competitive fees increased by 28%, provincial fees by 41%, club fees by 59%, sessional fees by 43%.
All 2019/20 programs were suspended mid March due to the COVID-19 pandemic. This substantially reduced higher expenditures (those more than $50,000 the previous year), including Coach Salaries & Development, distributing Fundraising credits (ex. for WPS travel), Facility Rentals and Tournament Expenses.

2020-11-19-RWPA-Financial-Statement
Below is a tentative budget for the 2020/21 season and is for discussion purposes only. Registration fees for 2020/21 were kept the same as 2019/20 because at the time of registration Water Polo Canada had not yet cancelled a January start for NCL. This would have had a direct impact on our Membership & Affiliation fees as more athletes would have been identified as Competitive.